Biography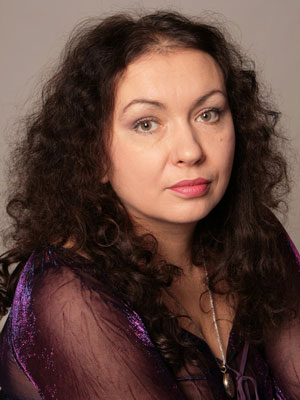 Elena Ringo was born in Moscow into a family of mathematicians where she showed signs of her talent at a very early age.
At the age of ten Elena began her studies at the world famous Surikov Art School for exceptionally gifted children located just opposite to the Tretyakov Gallery. Later she studied at the Academy of Art and Architecture in Moscow and wrote PhD dissertation in Vienna.
Elena lived in Helsinki since 1994 where she has had two solo exhibitions. illustrating books and painting commissioned portraits. She writes poetry, novels, and articles as well. In her twenties she developed an intense interest in both acrobatics and dance. From 1986-1988 she performed on stage with an original performance entitled "The Play With Hoola-Hoops".
She has participated in the exhibitions of Taidelainaamo, the exhibition "I Love Helsinki" in Suomenlinna in 2007, the "Signs of Time" in 2008, the "Helmikuun Helmet" and more than 20 other art exhibitions in Helsinki and other countries. In 1998 she had a one artist show in The Center of Russian Science and Culture. In 2000 she had an art show of her illustrations in the Pohjola Insurance company, in the Gallery "Silver Brush" in 2007 and in the Radisson SAS Plaza Hotel Helsinki in 2008
Elena Ringo's illustration of the Snow Queen became one of the most famous illustrations of Hans Christian Andersen's fairytales.
In 2008 she moved to Austria and since then has been living in Vienna. In October 2009 she had a solo exhibition in Vienna in Palais Schey, Goethegasse 3, and then another exposition" in the Galerie TIME in June 2010 and participated in group exhibitions. Elena Ringo is a scientist and a researcher in the field of art history, architecture and cinematography. Her speciality is the topic of alienation in cinematography. Elena Ringo is known for her research of the filmmaker's Andrei Tarkovsky legacy and she maintains the webpage dedicated to Andrei Tarkovsky.
Elena Ringo made a documentary feature film in the year 2014 dedicated to the painter Gustav Klimt.
In 2015 the short film by Elena Ringo "Diary" had a world premiere at Cannes Film Festival. The film deals with the problems of estrangement.
She manages the Association of Independent Cinematography (Verein für unabhängigen Film), registered in Austria, which aims to promote auteur cinema. The association has successfully organized several film festivals, including the Vienna Independent Film Festival and Prague Independent Film Festival.
Elena Ringo is a director of VIFF Vienna International Film Festival, which takes place annually in July, in Vienna.
She is also passionate about environmental issues and has successfully organized conferences of "ICERE" starting from the year 2014.
She is the Editor-in-chief of the International Scientific Journal and she is also the co-publisher of the Indie Cinema Magazine.
Elena Ringo is a press photographer, her photos were published in many media outlets, including Screen Daily, Komsomolskaya Pravda, YLE, Krone, Radio Wroclaw. She is an accredited journalist of Berlinale and Cannes Film Festival.
She is also a writer, she published the book "Mourning Becomes Geniuses" (2013) (together with Nina Ringo) and wrote the novel "Diary" (2017)
Elena is a Finnish citizen.